The Teach Overseas program has been sending native English speakers to Hungary for more than 20 years. Most recently this connection has been manifested through the organization's relationship with the Refugee Ministry of the Reformed Church in Hungary.
Each summer, a fresh group of English teachers was sent to serve in the refugee camps throughout Hungary, and more recently in the Refugee Ministry's community center in Budapest. The summer of 2014 saw 10 teachers working with refugees around the country.
Sadly, after 33 years of service around the world Teach Overseas was forced to close its doors in 2014. Like all of its partners, the RCH was unhappy to hear of this news but nevertheless thankful for the many years of service together.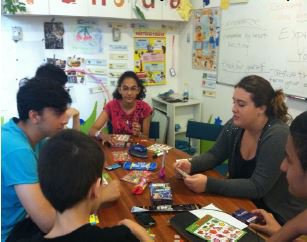 "I have been involved in church ministry work, both paid and volunteer, for over 13 years. My husband and I have started small groups and Bible studies in our church. We have traveled the United States working with a ministry that does outreach for teenage students. A few years ago we moved and start a church in an unreached community. But teaching English at the community center in Budapest this summer was the best ministry I feel I have done so far." – Amy Walker, teacher at the community center in Budapest
Teach Overseas was an interdenominational program that was established 1981. According to its website, the program's vision was "to share Christ's love through teaching." It worked in 10 different countries around the world providing teachers in one of two different terms of service – one year, where teachers teach in local high schools, or a six-week summer placement.
Amy Lester