There are people, who want to discriminate them, who want to misuse them and there are those people, who want to help them. So did the Hungarian Youth together with more volunteers from other countries in Europe and Middle East. They recently took part in a youth exchange program in Sicily  that studied the refugees' situation.
Around 50 youth from 8 countries, travelled at the end of May to Sicily's small town Vittoria to get acquainted with the Refugee situation. The Exchange Program of the European and Middle East Youth was initiated by the Diaconia Valdese (CSD (Commissione Sinodale per la Diaconia) - is a non-profit organisation that facilities diaconia of the Waldensians) that runs 4 Refugee Missions in Italy. Organizations from Finland, Hungary, France, Italy, Turkey, Lebanon, Tunisia and Jordan joined them.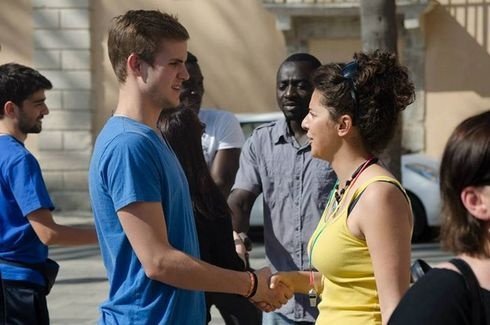 There was 5 Hungarian Youth on the exchanged program, who represented our country. This program is funded by the European Union's Erasmus+ program  the youth are delegated to the meeting by the Voluntary Diaconal Year Program Office. One of participants,  Szabina Sztojka had previously spent one year at a Refugee Centre in London, she now wants to be a Reformed Pastor. According to her "one of the meeting's purpose was, that people  who are interested in the refugee-problem,  can see what kind of problems  faces Turkey, Jordan and Lebanon, which receive a large number of refugees. These people get a chance to see, what transit countries, like Hungary face; how can countries of destination,  like France handle this question; and how can countries in the peripheries of this question, like Finland take part in this  global responsibility.

"We, Hungarians were the only church partner in this international exchange-program. Half of the participants was Christian, mostly the Lebanese and us, but there was many Muslim too, and this created a great conversational space.  But we did not speak about only religion, but also about the feeling of the rich countries' youths: their countries take part only slightly in this global problem, but the poor countries receive millions of refugees" – said Szabina Sztojka
Hopeful place?
"Vittoria is a small-town,  there you can't walk without seeing refugees. They can live without papers for a long time, because anybody takes time to ask them,  the Sicilian Police are not famous for being strict.  Even so the local people accept the situation, they rather don't understand, why they come, when there are few job opportunities. We thought, Sicily is big and everyone is happy – but the faces of people bear hopelessness.
Someone succeeds, while another doesn't
The participant youths could see all this based on the interviews with the local inhabitants. They had the chance to video shoot at the Waldensian  Refugee Centre during the 10 days in Vittoria. There they spoke to two refugees from Pakistan and Africa, who are of the same age with youth that spoke to them.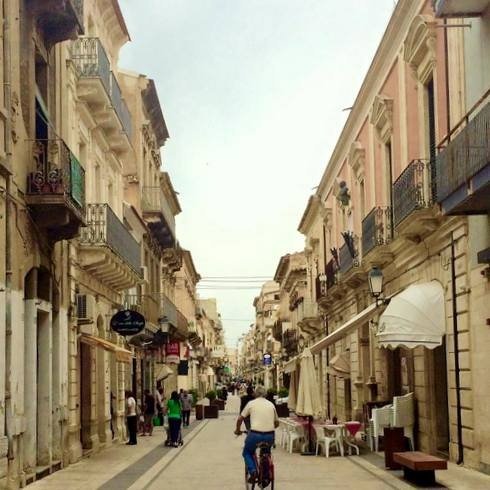 "In a short time one of them won't participate in the integration program, but he is hopeful because he has a job, and the workers of the Refugee Mission are helping him to find a flat and he speaks Italian perfectly."
2 youth from Gambia and one New Guinea took part in the exchange program, all of whom were refugees.  "One of them didn't get the refugee status in the past few weeks, he is waiting for the secondary decision, and he was very tense. When someone's application is denied, she/he must go back home, but most of the people escape into inland Europe. The projects, what help for the refugees, are only periodic.  Italy determines how long the refugees can be protected. They don't know, what will happen to them after the grace period, it can be very depressing.
They must prove it
"The refugees don't like speaking  about , why they left their homeland" said Szabina Sztojka.  "After travelling  a long way , for thousands of kilometres, they are asked everywhere, why they came. The procedure starts again at the European beaches: Prove that you have bad conditions at home to be here and you have the right to stay here. Understandable it's hard for them. They only began to share with us a few things once trust was formed between us.
Are they telling lies?
When we asked the refugees their stories, some psychological processes are at work inside them – say the Theological student. "It can happen that their stories are mixed up and they can tell us those of other's. Their purpose is not changing the truth and they don't want to exaggerate their reasons, why they left their home, however under duress they aren't able freely tell, what happened to them. 
The authorities extensively question them. They asked them for such questions as: What is the name of the parallel street that is that African village, near of your house? They find out, when someone lies and this one won't receive the refugee status.  But it can happen, when the person had traumatic experiences. For example one participant youth in the project escaped from Gambia, because his father fought in a group against the government, so the boy's life was also endangered. I don't know if the boy accepts his father's political views, but it is clear, that he had to escape, otherwise he would be dead. He couldn't say goodbye.
Cruel behaviour
There are trials outside the war zone, too – continues a young woman. "One Ethiopian refugee living in Rome, in a report speaks of how his fellow- countrymen escape the danger zone and at what price. First they need to go across the desert. All their money is taken away by the people smugglers, but if someone falls off the car on the way they leave the person there. Every second person die there.   When they are getting out of the desert, they change their minds and think of going home, but it would be nonsense. Ethiopian smugglers wouldn't help them return, so there is already little confidence in them. By this time they have guilt because of the starting the journey.  The arrested refugees in the North-African prisons often write subtitles on the walls, such as "Forgive me home for leaving you". The authorities know the name of the human smugglers.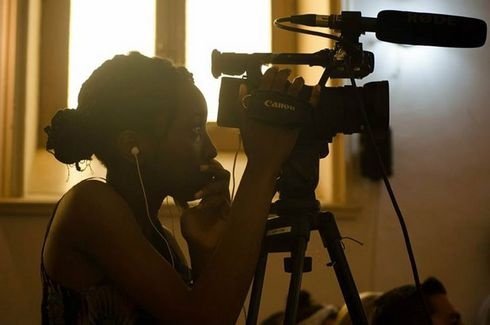 Every third consignment in Libya goes to the prison in Al Kufra, where these unlucky people are captive, hungry and thirsty in a room like this one, they are usually 40 persons, so they can sleep only by turns. There is a true story of a young boy who was taken in for questioning, where they asked him his nationality. He answered "my father is from Sudan, my mother is from Ethiopia." They said he must choose.  He couldn't, so the boy was profusely beaten. Most of the women are sexually abused over and over again, due to this continuous violation, they cannot conceive baby anymore. They support each other emotionally, that if they have come this far, they must keep move along.
"Refugees stuck in Libya are the ones who get into the hands of authorities after their human smugglers receive a bribe, be they women, men and children – don't know, how and when they can go to Tripoli, from where they can be shipped to Italy. They can't decide, which is worse: the desert or the sea – where they only want to die. They are hungry and thirsty, closed in the life threatening  boat at the sea, many times without a captain, and most of the refugees can't swim. I don't know I would be able to do this for one hour.  It is appropriate in connection to refugees that we speak about the danger of terrorism, but it is hard to imagine, that there is a man, who is able to endure these trials, because of a terror attack. People, who want to come with such thoughts to Europe, don't choose this route." thinks Szabina Sztojka.
Not a game
The Hungarian Theologian presented participants of the exchange program on the experiences of the refugees, through a 3 hour long Simulation Game released by the UN. "We were the refugees in the game, the aim was to use playful pedagogical tools can see the process, they go through, one which is worse kind that many of these people experience in reality.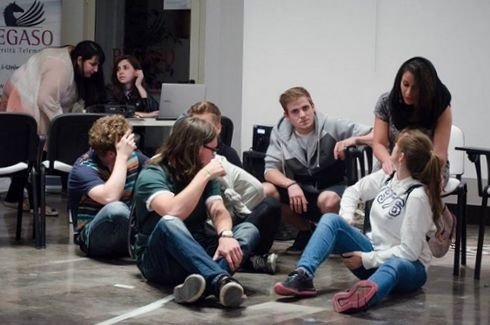 We create more stressful situations during the simulations, they can see so for example, how hard is go further with a hurt person. Or how big a disappointment it is, when there isn't any food, water or a place for have a bath at the reception camp.  Moreover you don't get the things on time, when you need them. The refugees in Sicily thought, that the troubles end in Europe, but many have started here. We can't understand their situation, but we can shape some imaginations with such a game. At least some feelings arise within us.
The Italian
The youth from European and Middle East processed the story of a Syrian refugee family. The play is directed by Szabina Sztojka, the people from Vittoria were invited,  as well as the inhabitants from the refugee camp – after the simulations, they have talked to each other – For many of them it was the first time.  "According to the story a mother escaped with her 2 children from Syria to a Jordan Refugee Camp. The father can't go yet, he would join them later, but in meanwhile he is killed. The mother and the children leave Jordan, they get to Germany.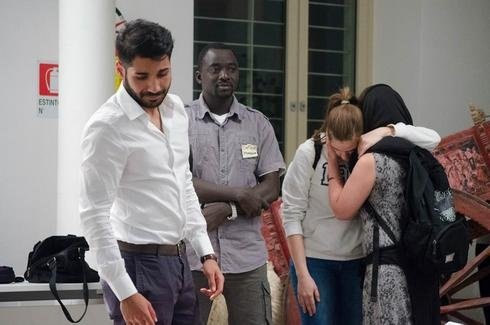 We investigated how a Syrian family can integrate to a new territory, and how they can get help. We wanted to present the refugees are people and there are countries, where people provide them with an affectionate community with high-standard supply. The main characters are the 2 children and their mum, because not only scared people arrived to us, every third refugee is only a child. Most of these children have seen their parents die, but they think they aren't refugees. Because they are still young, they can easier integrate in a new area, they think the new country is their home. I experienced it on the drama simulations.  I wanted to present some cultural elements from the story the boy from Gambia, who worked with us, but he didn't want this, because he is Italian. First it was hard to understand me, even if he lives there. The truth is that he got to like the culture to identify himself as an Italian, even if he had the darkest skin in the group. But we don't know, what kind of experiences he had at home.
A lot depends on the churches
We didn't speak only about the great love, but also about the problems of the receiving countries. There aren't answers for these questions in such a group, in which there are young volunteers – says the theologian.  But we all – Waldensians, Muslims, Hungarians and others - were in agreement, that we see a great opportunity in the churches.  The refugees who find help from churches and other civil organizations in the process of the integration,  can fit better in the society of the new country. If the administration would works better in the world, this process can be faster. In Italy one must wait for about 2-3 years before the refugee status decision is made, till then the person lives in uncertainty. According the Dublin Statement the refugees must ask for their refugee status, at the point of entry into the European Union. Hungary will struggle with this, too, if the system won't be fast enough, proactive, because until a decision is made, the refugee is tense, too, or what to do with themself. They don't know, if he/she can stay here or not, so they have no motivation to learn the language. But if they get assistance for integrations, at least they speak with the workers of the helping organizations and maybe they get to like the culture. If the refugees would fit in the society faster, many problems would be avertable.
The Reformed Church gets into it too
The Refugee Mission of the Reformed Church in Hungary helps eminently with the integration of the refugee families, with its successful afterschool program for the integration of the migrant children recently coming to an end. "We, as Christians, can't think any other way, we receive refugees and we give them food, and we know that if we do this, we do it with Jesus.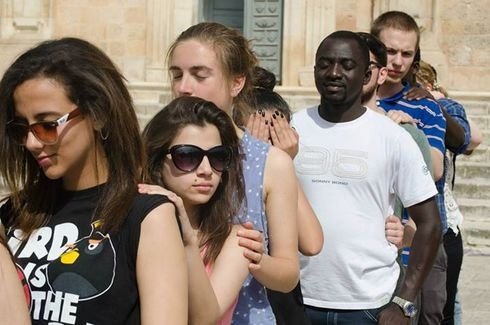 Moreover it will be good to see, that responsible Christian people search for the solution, on how people can live together, especially those who have different cultures. For example in Italy cultural mediators who know Arabic language and Islamic religion, help the integration of the Muslim refugees. There are pastors, who go to refugee camps – there is a great necessity for them, even if seemingly there isn't, because the Christians in the refugee camps often hide their religion, as they are scared of the Muslims. A pastor takes account of the fact that they have traumatic experiences and a pastor doesn't ask them in direct way, he has spiritual discussions with them. It would be great, if more people would start this kind of service at home, and this could strengthen refugee mission. When words and actions are combined, they manifests as a form of testimony for any religious refugee, this has great impact.
Ágnes Jakus
Source: parokia.hu
Translated by Daniella Szűcs
Photos: Tamás Füle, Szabina Sztojka