For World Refugee Day 2015, the Refugee Ministry of the RCH is encouraging anyone available to join in the UNHCR Celebrations and events organised by the ministry. To mark this day we share Sophie's story, a benefactor of the Refugee Ministry and featured in the poster stories for UNHCR.
The first World Refugee Day was marked in on 20th June 2001. This is a day when the world can pay attention to the realities faced by displaced people. On this day, their resilience is celebrated, and the general public is sensitised to their needs.  In the past few years Refugee Ministry of the Reformed Church in Hungary has not been left behind. The celebration of this day has taken various shapes and forms over the years in the RCH.
Though there are not always major celebrations revolving this day, the work amongst refugees as well as creation of public awareness of the plight is something that the RCH does through its Refugee Ministry throughout the year. "Our mission is to provide a home to 'newcomers,' to help rebuild their lives in humanity and to give Christ's love to them," said Dóra Kanizsai-Nagy, the head of the Refugee Ministry of RCH.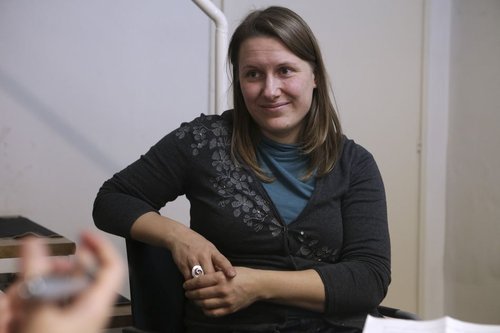 The 1951 Refugee Convention spells out that a refugee is someone who "owing to a well-founded fear of being persecuted for reasons of race, religion, nationality, membership of a particular social group or political opinion, is outside the country of his nationality, and is unable to, or owing to such fear, is unwilling to avail himself of the protection of that country."
In 2013 the Refugee Ministry of the RCH through the Reformed Mission Centre, in conjunction with the Hungarian Bible Society came up with a travelling exhibition titled "I was a Stranger and you Invited Me in..". In the course of history, the question of refugees and their place in the church is a controversial question in most parts of the world. The bible though has various examples of people of sort refugee in other countries, and urges us to be kind to the stranger. The 12-piece exhibition bares pictures, stories and words from the bible that provide a wider picture of what the bible say about refugees. The exhibition found itself in various reformed churches, schools, professional conferences and Starpoint Reformed Youth Festival. Dóra Kanizsai-Nagy in regards to this exhibition explains that, "Our mission –is providing help for internationally protected persons and for recognized refugees to begin their lives in Hungary – cannot be successful without the cooperation of the hosting society." She adds "that is why it is important for them to present the realities of daily life. With this travelling exhibition, they bring the message of hospitability to congregations, schools, small communities and bigger festivals".
In addition to the awareness, there is more that the Refugee Ministry does for example language lessons, housing programmes, and support in finding employment. This is through their staff of 13 social workers, teachers and almost 30 volunteer workers that they help refugees and migrants. The Ministry strives to integrate refugees into Hungarian culture through its education, housing and nanny programs. Recognized refugees have, according to the country's legislation, equal rights and responsibilities as Hungarian citizens (aside from voting for the president), and through different activities the Refugee Ministry strives to make it possible for them to have access to these rights and overcome the gaps in the system.
In addition to the work that Refugee Ministry does, there are congregations in the RCH that actively take part in work with refugees, amongst them include, Békésszentandrás Reformed Church whose minister has visited many refugee camps over the past eight years distributing bibles in foreign languages to Christian Refugees. He also prays and sings with them. In a past interview on speaking of his visits Ágoston Dobos says "I am surrounded by Afghan, Arab and African children. In cases like this, it comes to my mind that Jesus Christ as a child fled to Egypt. He said it later: '…Truly I tell you, whatever you did for one of the least of these brothers and sisters of mine, you did for me (Matthew 25:40).'"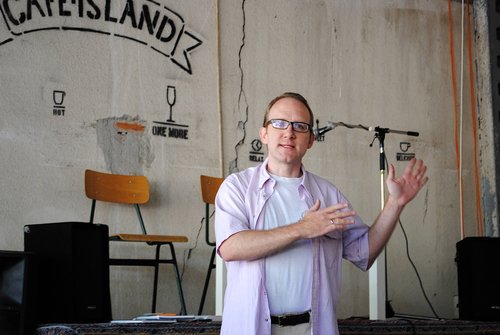 Another congregation that is actively involved in the work with refugees is St. Columba's Church which is a congregation of the Reformed Church in Hungary and the Church of Scotland. It is commonly referred to as the Scottish Mission, and true to its history the congregation helps the oppressed and works with and amongst refugees. However, this is not just a mission for them but as the Minister Rev. Aaron Stevens puts it "I'm not really comfortable saying that we 'reach out' to refugees, because they are members and a part of us," he says, "It's not what we do; it's who we are. It's not just part of our outreach; it's our identity."
For World Refugee Day 2015, the Refugee Mission of the RCH is encouraging anyone available to join in the UNHCR Celebrations. It will be hosting a dinner for Refugees they work with here in Budapest. This is not the only way we will be celebrating refugees this year, but through success stories as well. One of the stories that we are highlighting and sharing is Sophie's story as a means to Celebrate the World Refugee Day, who is also featured in the UNHCR campaign for 20th June 2015.
Sophie is a 30 year old lady who left Togo in West Africa for Europe. She considers herself one of the lucky people who made it here inside a shipping container. She gained refugee status in 2004, and has three children between the age of 7 and 10 all of whom were born in Hungary. Sophie is Christian, and in the past she regularly attended the Scottish Mission an English speaking congregation of the RCH.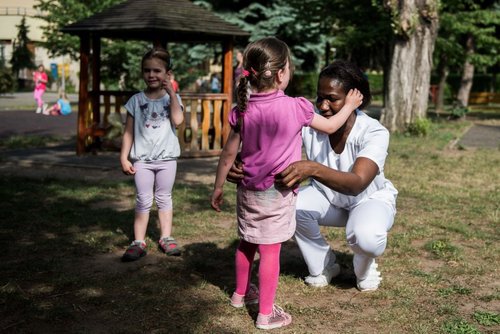 She has also been one of the benefactors of the work that the Refugee Ministry, taking part in one of the pioneer programs for women, the "Nanny Programme" where she got professional training gaining a "Kindergarten Assistant/Nanny" diploma and has been working as one for almost 5 years. Sophie was also lucky to take part in one year housing programme that helped her establish herself in the Hungarian society. Without her hard work, the support from the RCH would not have enabled her to achieve what she has. This shows resilience amongst all odds. 
In her interview with the UNHCR Sophie highlights that "I contribute to Hungary because I work and I pay taxes. I help children to learn to be open to foreigners and to people who are different." She adds, "refugees are not criminals, but people like them. We don't come to disturb their country." 
This among other stories is one of the reasons we celebrate Refugees and the effort they make to integrate in society. It is also a motivation factor for us, to keep working in the Refugee Ministry.
Njeri Wagana Hughes
Photos: reformatus.hu; UNHCR CEU
Cover Photo: UNHCR CEU 
Read more:
WCC Executive Committee speaks out on migrant crises 
Do not forget to show hospitality to strangers 
Day of intercession in memory of those who have lost their lives at the borders of the EU